Dartmoor & District
Dartmoor is scenically situated on the Glenelg River in Southwest Victoria about 400 kms from Melbourne and about 500 kms from Adelaide on National Highway 1, The Princes Highway. It is central to major tourist destinations such as the Grampians, the Coonawarra wine district and the Limestone Coast.
The Dartmoor district has an intriguing appeal and history of its own, through surveying by explorer Major Mitchell and the age of pastoral expansion, to its growth as a lasting centre of prime grazing production and the epicenter of the softwood plantation industry.
The town of Dartmoor has full amenities for travelers and tourists, including accommodation, camping, dining, store, post office, bush nursing, internet cafe, fuel and auto repairs.
Dartmoor prides itself on its commitment to community involvement and has won several state and regional awards in the Tidy Towns' competition. In the 'Year of the Family 1994' it was one of only four Victorian centres to be recognized as "a Family Friendly Place to Live and Visit". You are welcome to come and see why!
Dartmoor and District Location Map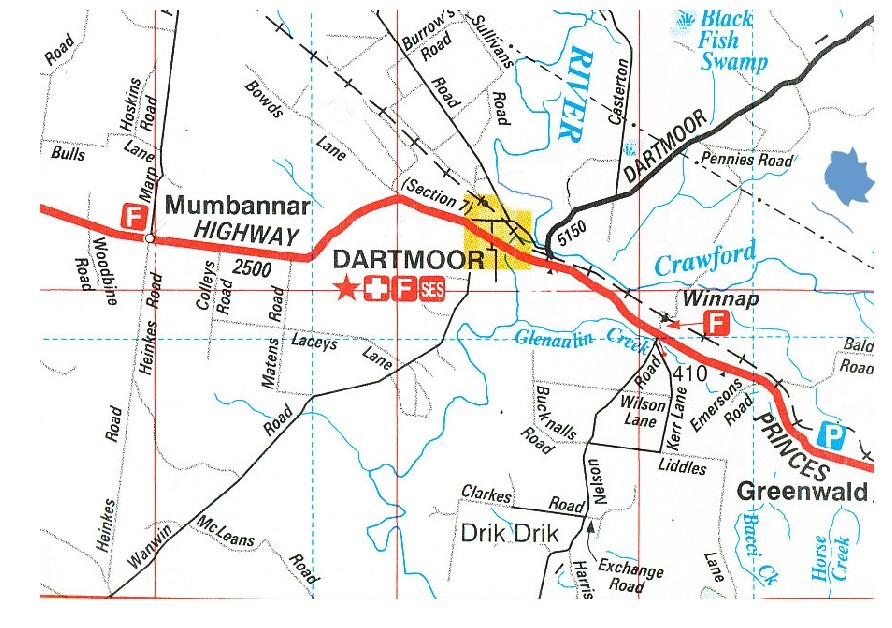 Dartmoor Town Map